There are a lot of wonderful places around America to live, but we're pretty partial to our neck of woods. Pride for our state runs deep and if you ask us, Michigan truly is the best place to live. Still not convinced? Here's a list of our top ten reasons to live in West Michigan.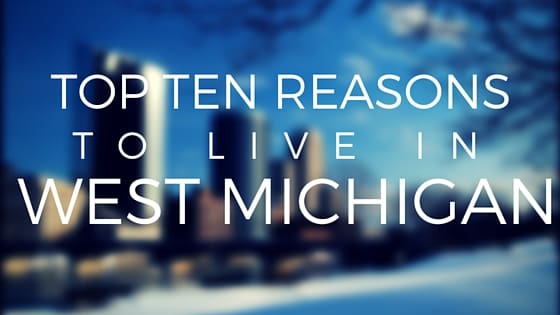 #1: Four Seasons

From water skiing to down hill skiing, West Michigan has it all. You won't be bored in a state with so many outdoor activities, we promise.
---
#2: The Shore Line

It only takes one visit to West Michigan's shoreline to see why we think our state is a hidden gem. Take a walk in the fall or go for a dip in the summer. No matter what you do, just get the family outside for an adventurous day at the beach!
---
#3: Quality School Districts

West Michigan has many amazing educational opportunities for your growing family. We hate to brag, but over here, our school systems are in full bloom. To learn more, make sure you check out this post to about Byron Center's school system.
---
#4: Small Towns, Big Cities

Whether you're a city dweller or prefer the country, West Michigan has both for you to choose from. One of our absolute favorite things about Byron Center is that it's a small community, conveniently located next to a thriving city, Grand Rapids. There is always something to do while still maintaining the small town experience.
---
#5: Weekend Escapes

Living in West Michigan means you are only a hop, skip and jump away from beautiful getaways. Head to Traverse City for the Film Festival one weekend or catch a Tiger's game in Detroit the next. Whenever you're looking to get away, you never have to go far.
---
#6: Festivals, festivals, festivals!

We are a state jam packed with festivals. No matter what you love, we've got a festival for you. From asparagus to movies, from beer to art, there's always something for you to do!
---
#7: Lions and Tigers and Red Wings, OH MY!

We might not always be the best in the league, but we're loyal fans for our sports teams here in Michigan!
---
#8: Affordable Housing, Beautiful Neighborhoods

Not only is housing affordable, but in West Michigan you have a wide selection of beautiful neighborhoods to choose from. To learn more about which neighborhoods fit your budget, just send us a quick email today.
---
#9: Amazing Colleges

Not only are you close to Big Ten colleges, but in West Michigan you also have tons of options of small colleges and universities to attend. Here is a list of colleges just in the greater Grand Rapids area…. pretty impressive, huh?

Aquinas College
Calvin College
Central Michigan University
Cooley Law School
Cornerstone University
Davenport University
Ferris State University
Grace Bible College
Grand Rapids Community College
Grand Valley State University
Kendall College of Art & Design
Kuyper College
Michigan State University College of Human Medicine
Secchia Institute for Culinary Education
Western Michigan University
---
#10: Cost of Living

Here in West Michigan, you get way more bang for your buck! You can buy the home you've always wanted without the expensive price tags you see in the rest of the country.
---
We want to know, what are your favorite things about life in West Michigan? Let us know in the comments below. And for questions about neighborhoods or homes in West Michigan, be sure to reach out to us today!